Enhance the beauty and functionality of your kitchen with custom cabinets.
If you're still using the standard, contactor-grade cabinets in your kitchen that came with your house however many years ago, you know they're lacking in a lot of ways. They may be too short, made from cheap material, and not feature the configuration you want that would make storing kitchen tools, cooking, and making your way around the hub of your home much easier.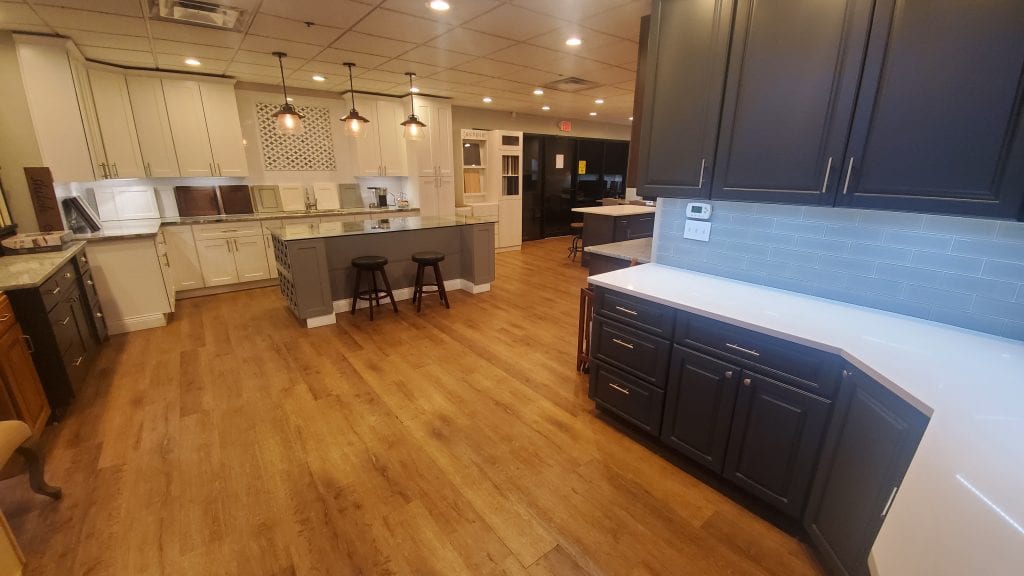 Instead of trying to live with what you have, upgrade your kitchen and your life by investing in kitchen cabinets specially designed and built by The Cabinet Guys. You can see our stunning kitchen cabinets in kitchens throughout the Dublin, Ohio area, and we can't wait to show you how new cabinetry can completely transform this room in your home.

We know the kitchen is the heart of any home – it's where you prepare Thanksgiving dinner, help your kids with homework over a snack, and gather with friends and family to celebrate birthdays and other special occasions. Your kitchen cabinets should complement your lifestyle, as well as your preferences for design, and we'll make sure that no matter what, your new cabinets completely fit your needs.
Beautiful Cabinets for your home
We design kitchen cabinets with style, efficiency, and storage in mind, and we are eager to get started working on your project. For more information about our design solutions and why our kitchen cabinets boast exceptional quality, get in touch with us today.
Your Questions About Kitchen Cabinets Answered
In any kitchen, the cabinets have the biggest impact on the overall look, feel, and design of the space. If you want to refresh your kitchen with new cabinetry, custom cabinets are the way to go. Here are a few common questions we receive about kitchen cabinets and their answers.
What makes custom cabinets different from stock cabinets?
Custom cabinets are made to fit into the exact dimensions of your kitchen. Comparatively, stock cabinets are made to go in multiple kitchens and spaces, so they don't boast the same level of uniqueness or customization.
Does custom cabinetry add to the value of a home?
Yes! One of the many reasons to invest in custom cabinetry is that when you put custom cabinets in your home, it can add to the overall value of your property.
Why should I have your team create my custom cabinets?
We have many years of experience creating beautiful custom cabinetry for our clients. Our goal when we outfit your kitchen with new cabinets will be to exceed your expectations with our service and workmanship.
Do you have a showroom where I can see examples of your work?
Yes! If you would like to see examples of our work and discuss your custom cabinetry project in person, we highly recommend stopping by our showroom.
What should I do next if I want you to help with my kitchen remodel?
If you're interested in having us create new kitchen cabinets for your remodel, start by contacting us directly. Just tell us a little bit about your project, and we can give you a free estimate.
---
At The Cabinet Guys, we provide kitchen cabinets for customers in Columbus, Delaware, Dublin, Grove City, Westerville, Plain City, Delaware, West Jefferson, New Albany, Gahanna, Hilliard, and Worthington, Ohio.
Similar Services We Offer: