Enhance the beauty and functionality of your kitchen with custom cabinets.
If you're still using the standard, contactor-grade cabinets in your kitchen that came with your house however many years ago, you know they're lacking in a lot of ways. They may be too short, made from cheap material, and not feature the configuration you want that would make storing kitchen tools, cooking, and making your way around the hub of your home much easier.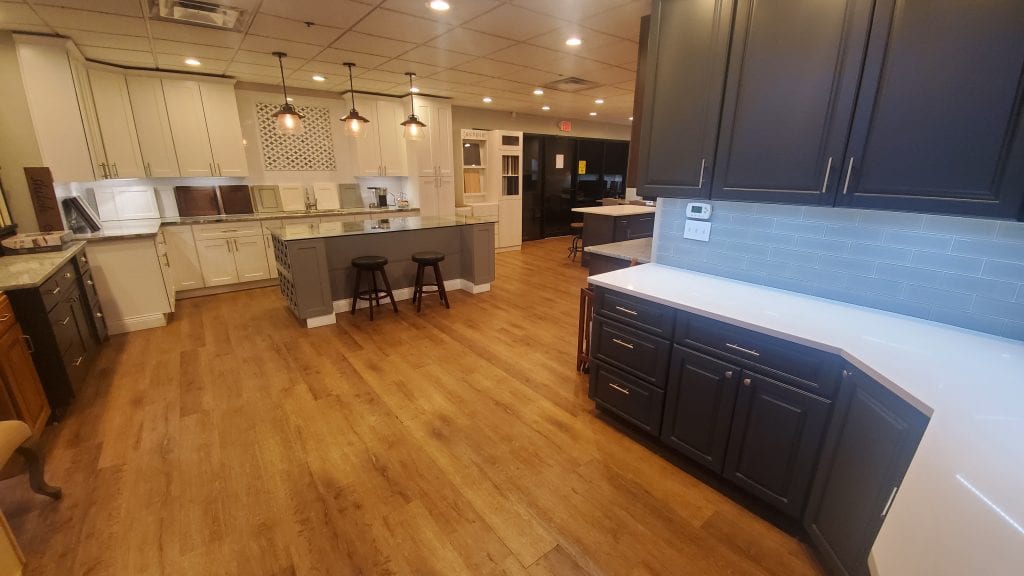 Instead of trying to live with what you have, upgrade your kitchen and your life by investing in kitchen cabinets specially designed and built by The Cabinet Guys. You can see our stunning kitchen cabinets in kitchens throughout the Delaware, Ohio area, and we can't wait to show you how new cabinetry can completely transform this room in your home.

We know the kitchen is the heart of any home – it's where you prepare Thanksgiving dinner, help your kids with homework over a snack, and gather with friends and family to celebrate birthdays and other special occasions. Your kitchen cabinets should complement your lifestyle, as well as your preferences for design, and we'll make sure that no matter what, your new cabinets completely fit your needs.
Beautiful Cabinets for your home
We design kitchen cabinets with style, efficiency, and storage in mind, and we are eager to get started working on your project. For more information about our design solutions and why our kitchen cabinets boast exceptional quality, get in touch with us today.
FAQs About Our Kitchen Cabinets
Our team at The Cabinet Guys has extensive experience in designing and building cabinets for your kitchen, bathroom, and more. Below, we'll focus on our kitchen cabinets, answering a few of your frequently asked questions on the subject to help you decide if our services are right for you.
What makes your kitchen cabinets great?
Our team always uses high-quality materials to build our kitchen cabinets (and our bathroom cabinets, for that matter). Investing in quality materials from the start produces superior results, and you can rest assured that our cabinets will serve you well for years to come. We also rely on time-tested construction and joinery techniques when building our cabinets, which further enhances the quality of our finished results.
What types of cabinets do you offer?
Kitchen cabinets come in a wide variety of styles, each of which creates a slightly different look for your kitchen as a whole. Our team offers multiple classic styles of cabinetry, including popular choices like shaker cabinets. When you turn to us for help in creating cabinets for your kitchen, we'll help you select the ideal style to complement the rest of your design.
Can I build my own kitchen cabinets?
It is technically possible to build your own kitchen cabinets, but in practical terms, it's better to hire professionals like those on our team to do it for you. Building cabinets is a highly specialized skill—so specialized that cabinet makers (also called joiners) had their own trade organizations, separate from other carpenters—so you will get much better results by letting experienced artisans like those on our team do this work for you.
---
At The Cabinet Guys, we provide kitchen cabinets for customers in Columbus, Delaware, Dublin, Grove City, Westerville, Plain City, Delaware, West Jefferson, New Albany, Gahanna, Hilliard, and Worthington, Ohio.
Similar Services We Offer: