Reimagine your space with new kitchen cabinets.
If your kitchen is looking a little drab or outdated, you've probably thought about improving it with new cabinets. But putting in new kitchen cabinets yourself is a lot of work. Instead of trying to DIY your new kitchen cabinets, leave everything to us at The Cabinet Guys.
We create timeless, high-quality kitchen cabinets for homes throughout the
New Albany, Ohio
area. Our kitchen cabinets feature premium materials, and we can customize them however you want. Whether you are set on a specific style, type of wood, or finish, we can make it happen.
When we say we will do everything when it comes to upgrading your home with new kitchen cabinets, we mean it. We will come in and accurately measure your space and talk to you about what you envision for your new cabinets. We'll then get to work creating your cabinets in our shop, and once they're ready, we'll install them with precision in your kitchen.
Very high-quality cabinets.
"I can't say enough about how awesome our experience has been with The Cabinet Guys. We feel we got very high-quality cabinets at a very competitive price. We loved bringing to life the design Sirena put together for us and are enjoying the new kitchen as we finish up the last final touches of this project."
★★★★★ Matt G.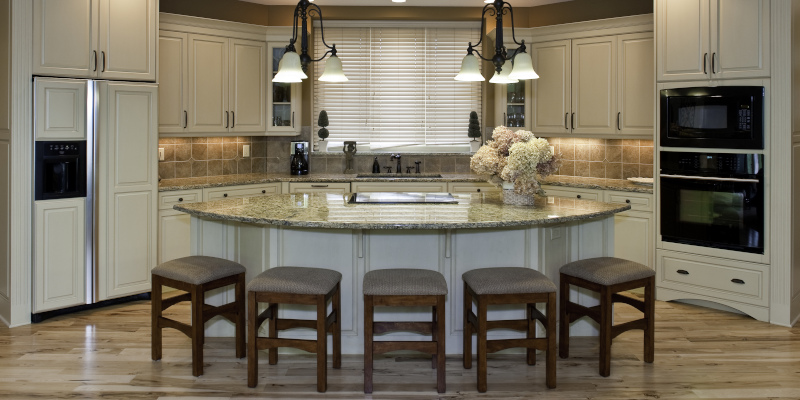 Kitchen Cabinets
We construct our kitchen cabinets with the highest-quality hardware, providing for many years of use.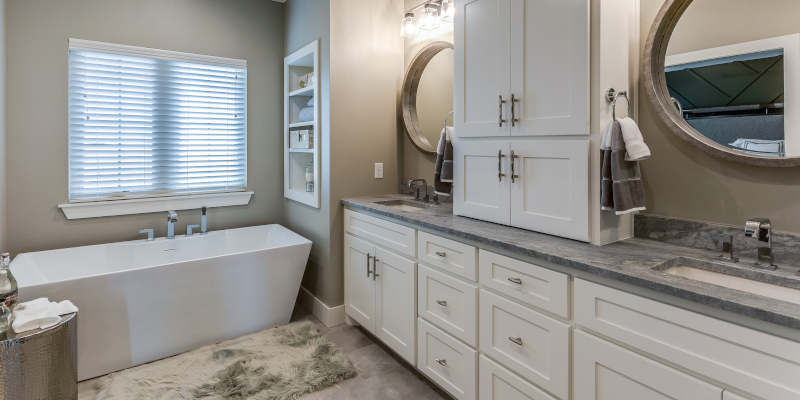 Bathroom Cabinets
Implement bathroom cabinets in your master bath or smaller bathroom in your home that boast plenty of storage and undeniable style.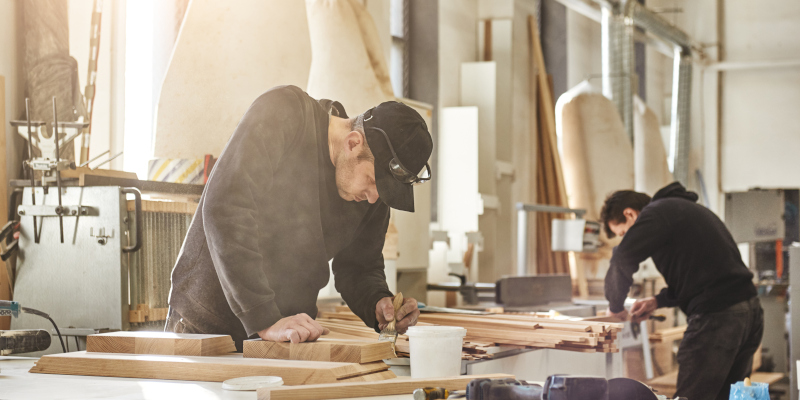 Home Offices
Create a home office that helps you be more productive with cabinetry that has ample storage space.
Trust us with your cabinetry project!
Our goal is to exceed your expectations with the quality of our
kitchen cabinets
and the exceptionalism of our customer service. If you need new kitchen cabinets, you can't go wrong choosing us to improve your home with this upgrade.
If you're ready to start exploring your options for kitchen cabinets, we want to talk to you! Contact us today to learn more about our approach to beautifying homes with custom cabinetry.
---
At The Cabinet Guys, we provide kitchen cabinets for customers in Columbus, Delaware, Dublin, Grove City, Westerville, Plain City, Delaware, West Jefferson, New Albany, Gahanna, Hilliard, and Worthington, Ohio.
Why Choose The Cabinet Guys?
Invest in your home and your quality of life by having our team at The Cabinet Guys design, build, and install custom cabinetry in your home office, kitchen, bathroom, or any other area of your home. As truly custom cabinet makers, we approach every project with a mindset geared towards designing and building something truly unique.
See what some of our happy customers have to say about our cabinets.
Cabinetry was superb quality. Andrew's design input was invaluable .Highly recommend this company for product and service
Andrea Atkinson
12:07 16 Nov 23
I can't say enough about how awesome our experience has been with The Cabinet Guys. We had some initial ideas and a rough drawing of what we had in mind for combining a small kitchen and dining room into one large kitchen.We worked with Sirena who developed a fantastic kitchen plan that we worked through in detail before ordering. She also connected me with Premier Remodeling to cover a few pieces of this project that I didn't feel comfortable doing (who also did a fantastic job). As most of this project was DIY, I had questions throughout and Sirena was responsive and helpful at each step of the process.We also purchased our counters from The Granite Guy (I'll write a separate review for them). Between cabinets and counters, we have an absolutely gorgeous space that we are incredibly happy with.I would highly highly recommend The Cabinet Guys and Sirena for your kitchen project. We feel we got very high quality cabinets at a very competitive price. We loved bringing to life the design Sirena put together for us and are enjoying the new kitchen as we finish up the last final touches of this project.
Matt Giordano
11:34 24 Oct 23
We are in LOVE with our new kitchen! Chrissy with The Cabinet Guys/Granite Guys was superb to work with. She went above and beyond helping us with the cabinet layout. Cabinets are great quality and the quartzite is gorgeous!
Melissa McMillen
17:33 29 Jun 23
My contractor recommended The Cabinet Guys for their reputation of having quality hardwood cabinets with quick delivery. I first met with Leah who was professional, knowledgeable, and patient. She helped me to create the initial design and was very responsive to my subsequent questions and design changes. I had never renovated prior to this and needed to turn my kitchen around to sell my home within a short timeframe. The cabinets were available in less than 2 weeks! She also worked in tandem with Brad from The Granite Guy to make the entire process less stressful for me. The final product is stunning and was no doubt the reason for my home going into contract within one day. Highly recommend!
Chrissy and team did a phenomenal job adding storage to our 1920s bathroom. Quality, fit and finish were great! Highly recommend!
andrew overbeck
21:14 22 Dec 22
We initially were planning just to install the granite countertops through The Granite Guys and repaint the the old cabinets but out of curiosity I stopped by at the Cabinet Guys and asked for a quote. The initial quote was affordable. So we decided to pursue it. We worked with Chrissy and Terry. They came to our house to give us the final estimate and offered additional suggestions (we decided to add a custom designed cabinet with the same marble countertop). The estimate went up but was reasonable. The work was completed in a timely matter. After ordering the cabinets (which took about two weeks) the Cabinet guys installed everything in two days and about 10 days later we had the Granite Guys install the beautiful granite countertops. The whole remodeling took about a month, it was a very smooth process and done efficiently and professionally. Highly recommend this company!
Anastasia Mayberry
16:45 11 Sep 22
Did a great job replacing some cabinet doors and installing crown molding. Would highly recommend
Sean Ferguson
13:34 25 Jul 22
Used Cabinet Guys for a laundry room / butler pantry reno. They do a detailed view of how everything will fit in your space. Andrew placed my order and was very responsive. The quality of the cabinets was superb and I chose one of the more value oriented lines. Would absolutely recommend.
Brad Sherman
21:03 23 Jul 22
ALYSSA was our designer and I have to say my kitchen turned out amazing. I have worked with other cabinets before and these are top quality and the best value I could find. Did the installation myself because real men swing their own hammers. Very easy just take your time. You can always pay someone to fix anything.
Seth Walton
19:28 09 Mar 22
Chrissy made our new kitchen cabinet experience so smooth, I couldn't even believe how she showed us exactly what we were looking for just by listening to us. We were very surprised at the price. If you are looking or thinking about cabinets, stop in and see Chrissy.
Pam Judson
04:35 13 Nov 21
I use the Cabinet Guys for my new kitchen. The process from the beginning to the end was very professional. I came in with ideas and they designed the kitchen based on what I verbally told them. The design was exactly what I was looking for. The timeline was laid out to make sure I understood what I needed to do for a timely install. Alyssa was great to work with and I would highly recommend the Cabinet Guys for anyone getting new cabinets.
Gavin Pike
20:54 27 Oct 21
Best quality, nice customer service. I use Cabinet Guys for all my kitchen remodeling (3 kitchens), custom closets, and vanity cabinets. They did a beautiful job, maximized my space and I always receive a lot of compliments from family and friends. Highly recommend!
Jake Harper
15:22 27 Oct 21
Very helpful and knowledgeable staff. If you are in the market for cabinets give them a call. They have been helpful on big and small projects that we've done. They were great at working with my schedule. They made planning and working on my renovation much less stressful than working with some other businesses.
It always feels like a crapshoot finding dependable, home renovators so when I come across one that delivers on all significant points (value, professionalism, communication, responsiveness, etc) I have to give credit where it is due. Cabinet Guy has a customer for life and I plan on using them for multiple projects in the future.
Joe B Gallagher
04:07 26 Oct 21
I want to thank the owner for providing us with beautiful custom cabinets at a fair price. He had a previous employee who made a measuring mistake and qouted us wrong. The business owner did the right thing, took ownership of the problem, came to an agreeable price with us and provided such a wonderful product. We recomended the cabinet guys to all friends who ask.
Gary Sr. is my go to for kitchen design and cabinets.. He provides me with a drawing on each job and has a wide range of options for my clients. I'm a big fan of their Shiloh line because of the paint and finish options.
Austin Berleman
13:00 05 Jan 21
I have purchased cabinets from The Cabinet Guys multiple times and I'm always happy with the service, communication, and quality of the cabinets. Chrissy is always happy to help, responsive, and creative with the cabinet design. I couldn't be happier and will continue to partner with them on future projects.
Jason Myers
15:27 28 Nov 20
Remodeling our kitchen with cabinets purchased from The Cabinet Guys was a great decision. The product is high quality and Jonathan was knowledgeable and helpful along the way.
Griffen Gordon
19:38 17 Nov 20
I recently remodeled a master bathroom with cabinets I purchased from Gary at The Cabinet Guys. We made multiple trips to the store as questions arose and Gary was always helpful. Gary wanted to make sure that what he spec'd out for us would work so he came to the house and measured it himself. At one point in the process we realized that the doors on the linen cabinet were going to be too large. Gary was able to change our order and provide other cabinets that met the need that we like even more than the original ones. This was not a large cabinet order, but Gary treated us like it was. He was concerned about our budget and making sure that we were happy. He also answered our calls while he was on vacation! This is why you don't go to the big box stores for major (to us) purchases.
Paul Beyer
19:22 05 Nov 20
I met Jonathan Pierpoint and his Wife while on vacation. There is not many people you can meet and become very good friends and even call family in just a few days. But Jonathan and his wife Allie, are those people. While on vacation, Jonathan would talk about work. You can tell when he talked about it he was passionate about it. He would even take time out of his vacation to check his emails and do some work. He was very insistent about loving to make the customer happy. Keep in mind he was not trying to sell me cabinets. He just loved to talk about it. This is the type of service everyone should be looking for. I am very happy to have made new friends! I look forward to many good times with them.Kirby
Kirby Walton
23:13 23 Oct 20
We worked with Jonathan to have our kitchen cabinets remodeled, we originally thought of refinishing the doors and boxes only but the quality of their products and pricing made replacing the cabinets a no brainer. He provided recommendations and insight on things that would amplify what we were trying to achieve, and it never felt like we were being upsold. He listened to our needs, understood our budget, and made recommendations accordingly. Some additional features we are glad we added in were the crown molding, and the light rail to accent the tops and bottoms of our cabinets. The company they recommended (Premier Remodeling) did an outstanding job on the install and took their time which was appreciated. These two worked side by side to make sure communication was clearly sent to us when needed and scheduling was taken care of behind the scenes. From the time of delivery to install was only a few days. On site they made a few small recommendations on how to position the moldings and hardware, which made a big difference in the outcome of the project. Highly recommend anyone looking for a refresh of cabinets in any space of the home to check these guys out, we were extremely happy with the price, service, and quality all the way around.
Aaron Hutchison
15:22 16 Oct 20
We ordered a vanity, and it came in very quickly, even during COVID. It was exactly what we ordered and looks great. Jonathan was helpful, professional and friendly. Great experience, all around.
Jennifer Moeller
23:23 05 Oct 20
Very knowledgeable and great at working with my busy schedule. They really made working on my kitchen much less complicated than I initially thought. I know who to reach out to next time
Hazley Team
14:14 05 Oct 20
OMG. Need I say amazing! I called because I needed to get clips for my under mound for my kitchen sink because I currently have none . Jonathan was incredible. He could've brushed me off and sent me somewhere else to another number and it would've been a nightmare to try to find a contractor to want to install clips. He actually got the clips for me and also found a contractor who would be willing to install them for me. Super nice! Not many people would go out of their way to help you out. Thank you so much Jonathan!
Vicki Rock
19:47 06 Aug 20
Jonathan worked with me to complete our new house with a glass cabinet. Very responsive even during covid. He even dropped the cabinet off on my front porch. Best service, nice guys. The J&K cabinet looks great and completes the set. Thanks!
David Heit
02:04 15 May 20
I had my original kitchen redone. Everyone was great from the sales staff to the installation guys. The installation crew and Backsplash installers were very meticulous and took pride in their work.
Jim Cassidy
20:52 21 Apr 20
We renovated our kitchen with The Cabinet Guys, everything but the appliances. Gary and his team were so very helpful in creative design as well as cost savings. The end result: delivered on time, great attention to detail and our preferences, cleaned up each day, and a beautiful new look. They work with their affiliate, The Granite Guys, and coordinated our desire to look at another granite supplier to get the look we wanted. Thanks, GUYS.
Teri Parker
21:27 22 Feb 20
I have really just started my search for kitchen cabinets. They are very friendly and really help you think though the process of what you need. They can help to keep costs within your budget by suggesting different brands or styles of cabinets. I have to say that the process of determining what you want and getting to an estimate takes way more time than I thought it would. So, make sure you have time when you sit down to make a design and get an estimate.
Fantastic service, value and price!
Chazz Ward
11:50 04 Jan 20
Great service, great employees, and even better experience. The work they did for my garage is unmatched. Thank you Cabinet Guys!
Colleen Feeney
20:47 01 Dec 19
Aweoms and timely service by everyone! They were able to complete the job right before the holidays, contact them for any needs of your own before going anywhere else!
Michael Smigel
18:10 29 Nov 19
The work done by the Guys was incredible, our cabinets in the kitchen turned out beautiful and the installation process was super quick and simple! Just in time for the holidays!
Emily Loudin
22:18 26 Nov 19
The service with the Cabinet Guys was amazing, we are more than happy with what they were able to do with our kitchen! Thanks!
Martie Snyder
23:21 25 Nov 19
Wow, can't say enough about this company!!! Fast service and great quality!! Highly recommend.
Alexis Kirkbride
01:55 14 Nov 19
Great service and exceeded expectations. I was able to use their services to help remodel my parent's kitchen as a surprise and they loved it! I would highly recommend for any of your needs!
Devin Salley
01:52 14 Nov 19
This is one of the Best home improvement companies in Columbus OH. They remodel my entire kitchen. Everyone was extremely friendly and answered all of my many questions. I recommend The Cabinet Guys 10 star company.
Samuel Boahen
15:30 04 May 19
Love this company. Their communication and customer service is on point. I had Tad help me with my design and it came out perfect.
Sam Miller
12:30 04 May 19
Wow! Fast service. Super friendly. Great quality. Thanks for taking great care of my clients!!!!!
Mitchell Prozy
11:41 04 May 19
Working with The Cabinet Guys has been a pleasure! They were experienced, knowledgeable and had good communication. I highly recommend The Cabinet Guy!🙌🏾
Jermaine Fox
11:25 04 May 19
TAD did an amazing job helping me design my kitchen. Easy people to work with as well as great one on one interaction.5/5 recommendations. Great service.
Michael A. Llausas
11:24 04 May 19
Recently remodeled our master bath, guest bath and laundry room. Tad helped us find a navy blue cabinet that we absolutely fell in love with. He also helped us find a great company to install our new cabinetry. We liked them so much they will be doing our basement remodel in the fall.Great experience and very low pressure.
cory sebach
13:57 02 May 19
A wonderful experience. Gave me exactly what I asked for and went above and beyond my expectations. I will be giving these guys recommendations to everyone I meet.
Matthew Hammond
18:49 19 Feb 19
Great guys and hardworking!
Fred Brown
01:15 01 Apr 18
The Cabinet Guys provided terrific customer service. Fast and great design help, not to mention at an extremely fair price! I would recommend the Cabinet Guys to anyone looking to transform their home, with a touch of quality!
zach willard
01:30 27 Mar 18
My wife and I are very pleased with both the level of service as well at the end product for our kitchen. We would definitely recommend working with The Cabinet Guys and will do so for any future projects!
m2kspichu •
00:13 16 Mar 18
My wife and I recently remodeled our kitchen and master bath. We were very pleased with our experience at the Cabinet Guys. My wife especially liked the design process and how much time they spent on designing her dream kitchen. We would absolutely recommend their designers to anyone looking for cabinetry.
Ryan Greer
17:03 15 Mar 18
Great quality products with choices for all budget. Very responsive and friendly staff. I would highly recommend to anyone needing cabinets for custom homes to rental properties.
Todd Sterling
16:36 16 Feb 18
Sheri Quinn
21:42 09 Feb 18
After a less than great experience at a big box store we called Keith at the recommendation of a former coworker. The experience my wife and I had with the Cabinet Guys was a complete pleasure. We highly recommend to anyone looking for great service and follow up.
Ron Benjamin
19:41 08 Feb 18
Julie did a great job helping me lay out the kitchen on my last flip. I was very pleased with the quality of the cabinets and the price was totally fair. We will be using Julie for our personal master bath remodel in the near future.
Justin Hazley
22:19 07 Feb 18
I worked with a few different shops but in reality I had made my decision to work with The Cabinet Guys from the onset. Great "in-person" customer service is sometimes hard to come by these days with the Amazons of the world. Not at The Cabinet Guys, I worked primarily with Julie but Keith was just as eager to help answer any questions and make sure we were making the right decisions for my kitchen Remodel. I felt like we were truly partners and getting the best design/layout and meeting my individual needs not just getting more product or fancier upgrades just to get them. If you shopping on budget the price was great, but the integrity was the difference maker.
Aaron Hawk
22:10 07 Sep 17
I loved the cabinets I got from the Cabinet guys. Keith was super responsive and about half the price of Lowes and Home Depot. Everyone raves about our new kitchen. Twice as good for half the price. A no-brainer.
Daniel Weston
02:51 02 Nov 16
We have used The Cabinet Guys exclusively on our last 17 remodeling projects. Their customer service has been fantastic and their prices have been more than fair. In the rare instance of a challenge their staff has gone above and beyond the call of duty to help resolve the situation quickly.
David Needs
19:54 19 Nov 15
Very happy with service and cabinets. Super quick ordering and installation process. Thank Cab Guys!
Al Thompson
15:52 02 Oct 15
We used these folks to help us create and awesome bar in our basement. They were fantastic to work with, had great ideas and helped us build exactly what we envisioned. Now, our basement is THE place to be for Buckeye games and parties. The people were great and it was as if we were working with a group of friends on a project. I highly recommend them!
Cheryl Molli
19:46 01 Oct 15
Was more than pleased with my experience with The Cabinet Guys. They were both professional and skilled, leaving me with the most beautiful kitchen of my dreams. I would highly recommend them for your kitchen remodel!
Terra Stackhouse
23:35 28 Aug 15
Great cabinets, and awesome showroom! You cannot go wrong with the Cabinet Guys. Their unique location offers so many selections and you can check out other vendors at the same time (granite guys). Thank you for being so easy to work with!
B Thompson
15:49 09 Jun 15
Improve your home with quality cabinets!
We design and build exceptional cabinetry.