Enhance the beauty and functionality of your kitchen with custom cabinets.
If you're still using the standard, contactor-grade cabinets in your kitchen that came with your house however many years ago, you know they're lacking in a lot of ways. They may be too short, made from cheap material, and not feature the configuration you want that would make storing kitchen tools, cooking, and making your way around the hub of your home much easier.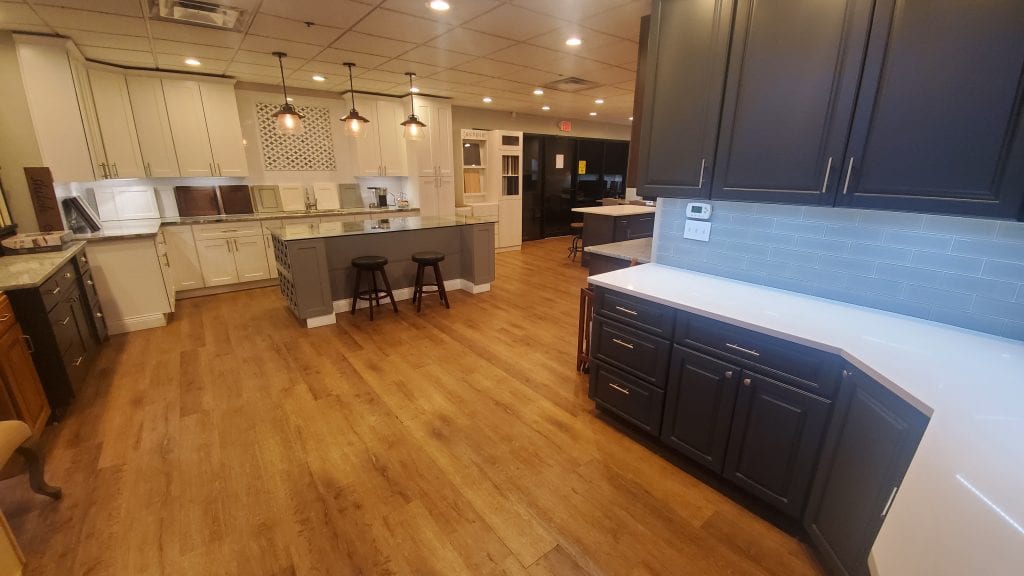 Instead of trying to live with what you have, upgrade your kitchen and your life by investing in kitchen cabinets specially designed and built by The Cabinet Guys. You can see our stunning kitchen cabinets in kitchens throughout the Columbus, Ohio area, and we can't wait to show you how new cabinetry can completely transform this room in your home.

We know the kitchen is the heart of any home – it's where you prepare Thanksgiving dinner, help your kids with homework over a snack, and gather with friends and family to celebrate birthdays and other special occasions. Your kitchen cabinets should complement your lifestyle, as well as your preferences for design, and we'll make sure that no matter what, your new cabinets completely fit your needs.
Beautiful Cabinets for your home
We design kitchen cabinets with style, efficiency, and storage in mind, and we are eager to get started working on your project. For more information about our design solutions and why our kitchen cabinets boast exceptional quality, get in touch with us today.
New Cabinets for your kitchen
FAQs About Kitchen Cabinets
When you are undertaking a major home improvement at your Columbus, Ohio home, it stands to reason you will have several questions about each phase of the project. At The Cabinet Guys, we are here to guide you through the selection and installation of kitchen cabinets. You can turn to us for any questions about our custom cabinetry. Here are a few questions to get you started.
Can you work around other contractors working on my kitchen?
Absolutely! We take pride in our ability to keep your project moving along on schedule by making ourselves available for installing your kitchen cabinets when your contractor notes it is time for that phase. We are happy to work with them when getting dimensions and other specifics so that your new kitchen cabinets work perfectly with your other upgrades.
Do I have to do a full renovation to get new kitchen cabinets?
Not necessarily. It depends on your objectives. If you are changing the layout in any way, you'll be needing other aspects of a kitchen renovation, such as plumbing, electrical, and flooring revisions and upgrades. If you are keeping the same layout, these steps and services might not be needed. We will be glad to address this question specific to you when we meet with you at your home to go over the project.
Can you help me have a more organized kitchen?
Yes, we focus on kitchen cabinets that will meet whatever objectives you have in mind. Let us know that organization is one of your main concerns, and we'll recommend options that will achieve that goal. Custom kitchen cabinets are ideal for maximizing storage, which leads to better organization.
---
At The Cabinet Guys, we provide kitchen cabinets for customers in Columbus, Delaware, Dublin, Grove City, Westerville, Plain City, Delaware, West Jefferson, New Albany, Gahanna, Hilliard, and Worthington, Ohio.
Similar Services We Offer: