Make your bathroom a true oasis with custom cabinetry.
Bathroom Cabinets in Columbus – Your bathroom is so much more than just a place where you shower, get ready for the day, and brush your teeth at bedtime. Your bathroom is an escape you can use to relax, unwind, and pamper yourself. But if you're still living with cheap cabinetry that looks more functional than beautiful, it's time to upgrade and invest in bathroom cabinets.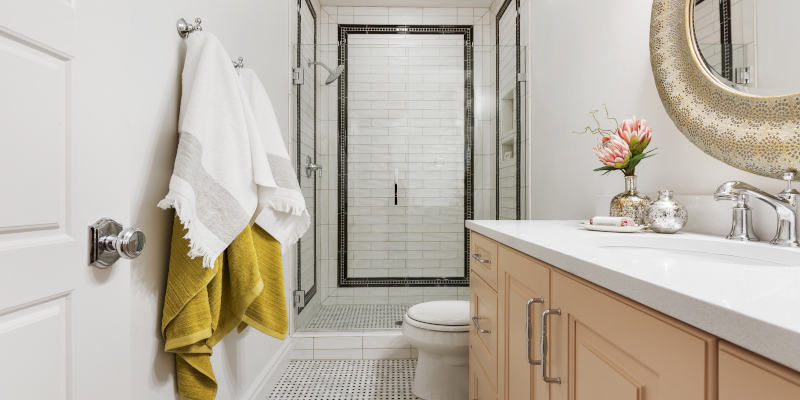 At The Cabinet Guys, we can design, build, and install bathroom cabinets for any bathroom in your home. Whether you want to completely overhaul your master bath or remake a hall bathroom, we can build cabinetry for a total remodel or as a standalone project. Although every project we work on is different, the one constant we maintain is exceptional quality. No matter what size, style, or wood you choose for your bathroom cabinets, you can rest assured their quality will go beyond what you expect.
Kitchen Cabinets is our specialty
We are the premier source and builder for custom cabinets serving Columbus, Ohio, and we work hard every day to keep it that way. During your project, we will always communicate with you, and we will do whatever it takes to build cabinets for you that go above and beyond your expectations.
Customization on your next new cabinets project
Not only can new bathroom cabinets make your bathroom look better, but they can enhance your quality of life and add tremendous value to your home. Get in touch with us today to view our portfolio of bathroom cabinetry or to find out more about our design, building, and installation processes.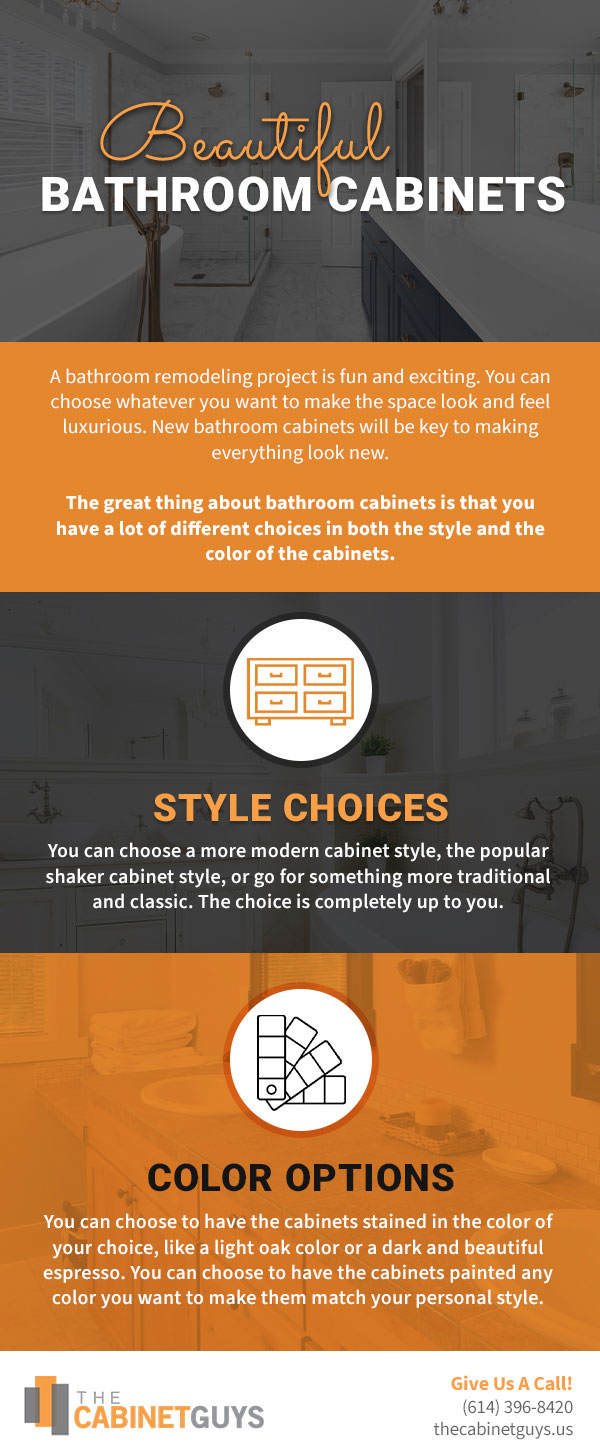 FAQs About Our Bathroom Cabinets
Our team at The Cabinet Guys has the right experience to create beautiful, functional bathroom cabinets for your needs. Below, we'll go over the answers to a few of our frequently asked questions on this subject to give you a better idea of what we can do for you.
Do bathroom cabinets have unique design concerns?
Yes, bathroom cabinets do have some specific design concerns that kitchen cabinets do not share, or share to a lesser degree. For example, bathroom cabinet schemes tend to be smaller because they have to fit inside a smaller space, and more of the cabinet real estate tends to be taken up by plumbing. In addition, bathrooms tend to have more ambient moisture than kitchens, so we take extra care to select waterproof materials and to seal your cabinets properly.
What makes your bathroom cabinets great?
As we alluded to above, our team uses only the best materials for our bathroom cabinet projects. Investing in high-quality materials at the outset will save you money in the long run, as your cabinets will be more durable and, therefore, last longer. In addition, our experienced team members rely on proven construction techniques to give your cabinets even more strength and durability.
Can I build my own bathroom cabinets?
Although it is possible to build your own cabinets, we encourage you to have our team tackle this project for you instead, as we can deliver better results on a much shorter timeline. Our team has been building bathroom cabinets for many years, and we are confident you will be more than satisfied with our work. In addition, you'll be able to spend time on more enjoyable activities when you use our bathroom cabinet services.
---
At The Cabinet Guys, we provide bathroom cabinets for customers in Columbus, Delaware, Dublin, Grove City, Westerville, Plain City, Delaware, West Jefferson, New Albany, Gahanna, Hilliard, and Worthington, Ohio.
 
Similar Services We Offer: