We love seeing the smiles of our customers when they see the bathroom design we can make a reality.
More and more families in the Delaware, Ohio area recognize that the bathroom is an important room to consider renovating. If you are not in love with your bathroom design, it is time for a change. Not only can a new bathroom add value to your home, but it can also add value to your life.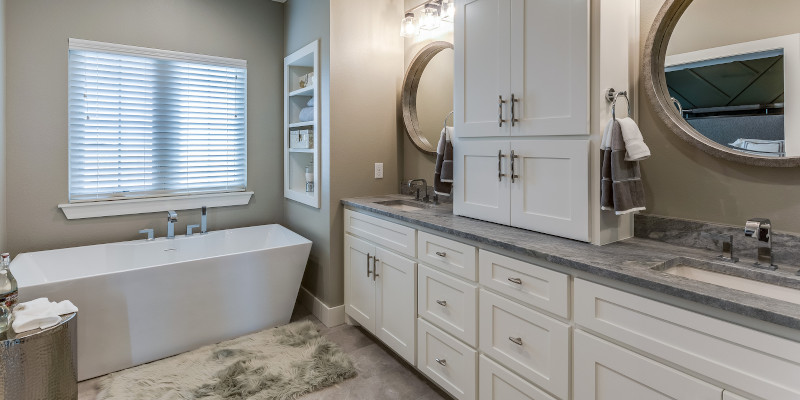 At The Cabinet Guys, we love seeing the smiles of our customers when they see their bathroom transformed with a modern and beautiful bathroom design project. We also know those smiles will continue for years to come because of the durability and functionality of our custom-designed, built, and installed bathroom cabinetry.
The goal of any bathroom design is to improve your home and life overall. When you consider that you start your day in the bathroom and that a nice hot bath or shower at the end of the day can help you get a better night's rest, it makes sense to focus on improving this vital room. With attention to storage and organizational features, your time spent getting ready will be shortened. Perhaps you could even hit that snooze bar one more time. Just the good feeling you'll get when you enter a beautiful bathroom each morning could put you in a good mood and set the stage for the rest of the day.
If you would like to get started with developing a bathroom design that will give you ultimate storage, functionality, beauty, and value, reach out to us today. Please stop by our showroom for inspiration and to get answers to your questions about our products and services for kitchen and bathroom remodeling projects.
FAQs About Our Bathroom Design Services
Our team at The Cabinet Guys wants to help you make your bathroom the best it can be, and we offer expert bathroom design services to do just that. Keep reading to learn the answers to a few of our most frequently asked questions on the subject.
What types of bathroom design services do you offer?
Although our company name might have you believe we only work on cabinets, this is not the case. We have extensive experience in bathroom design, and we can help you with other aspects of this work as well. For example, we can help you plan the new layout for your bathroom, help you select tile and other materials, and help you finalize the process by putting it all into place for you.
Why should I use your bathroom design services?
Bathroom design and remodeling are specialized skills. Even the most experienced DIYer has most likely worked on only one or two bathroom renovations, but the experts on our team have completed countless such projects. We have the right experience to help you plan the perfect layout, select the ideal materials, and deliver exceptional results to make your vision into a reality. On a more practical note, using our bathroom design services will also save you a great deal of time and energy, since our team will take care of everything for you.
Do I need to redesign my bathroom?
Only you can provide the answer to this question, but if you are unhappy enough with your current bathroom to be asking this question, there is a good chance you will benefit from a bathroom redesign. In our experience, some homeowners use our bathroom design services to improve bathrooms that are no longer serving their functional needs. For example, if someone in your household has developed a mobility issue, you may need to replace your walled bathtub with an accessible shower. On the other hand, it's also perfectly fine to use our bathroom design services to simply update the look of your space. No matter what, we'll make sure you are more than satisfied with the finished results.
---
At The Cabinet Guys, we provide bathroom design services for customers in Columbus, Delaware, Dublin, Grove City, Westerville, Plain City, Delaware, West Jefferson, New Albany, Gahanna, Hilliard, and Worthington, Ohio.