Our cabinet shop can help make all of your cabinet dreams come true!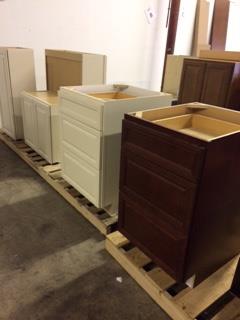 When you are in the market for new cabinets, it can be overwhelming to know what the best option is for your home. There are a lot of choices, and it can be hard to make the decisions when you are not informed about all the different choices. What type of wood is best? Should you paint or stain? Do you want more drawers or more shelf space? Whether you are replacing current cabinets or have a brand new home that needs cabinets, we can help you. We can go over the options with you and help you make an informed decision. Our cabinet shop can provide you with quality cabinets, but more than that, we are also there with you every step of the way to help you decide what cabinets are right for you.
We know that cabinets are a big expense, so we want you to love your choice for a long time to come. The great thing about our cabinet shop is that we can give you options and help you figure out what style of cabinets best suit you and your personal style. We not only build superior cabinets, but we also provide you with superior customer service. We will show you samples of different cabinet styles, different wood choices, and will go over all the paint or stain choices. We are here to help and can answer all of your questions. We'll work hard to make sure that you are happy with your decision.
At The Cabinet Guys, we can provide you with quality cabinets for your Worthington, Ohio home. We do cabinets for kitchens, bathrooms, laundry rooms, and anywhere else where you want cabinets. We can help you find the perfect configuration to fit in the space you have available and make your cabinets as functional as possible. We will take care of the installation as well, so you can start enjoying your new cabinets in no time. Our cabinet shop can help make all of your cabinet dreams come true!
---
At The Cabinet Guys, our cabinet shop serves customers from Columbus, Delaware, Dublin, Grove City, Westerville, Plain City, Delaware, West Jefferson, New Albany, Gahanna, Hilliard, and Worthington, Ohio.