Enjoy a wide variety of benefits from custom designed laundry room cabinets.
Are your laundry soaps and other products perched precariously on top of your washer or dryer? Does the vibration of the machine cause them to fall and sometimes leave a mess on the floor? If you said yes to these questions, the solution is custom designed, built, and installed laundry room cabinets. At The Cabinet Guys, we get most of our calls for kitchen and bathroom cabinetry, but we want you to know that your laundry room deserves the same high-quality cabinetry. You can experience several benefits once we have transformed your laundry room with custom laundry room cabinets.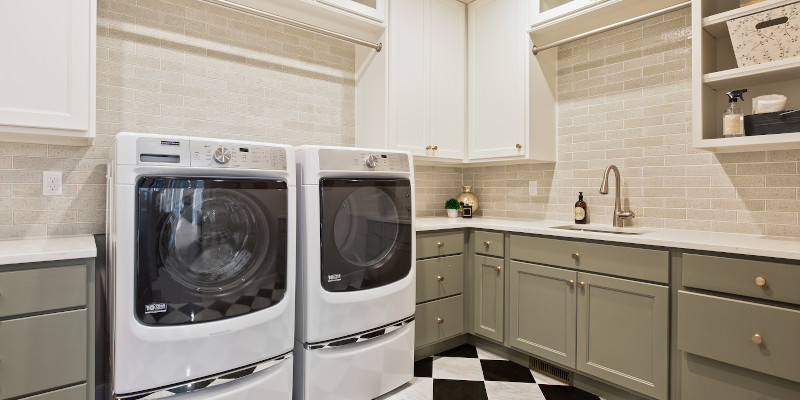 Keep organized- You will be able to keep all your laundry day products organized so you easily know when you are running low and you don't find out as you put clothes into the washer or dryer that you have to go to the store.
Keep children and pets safe- Many laundry products are dangerous in children's hands or the mouths of pets. Keep them safely out of reach in your laundry room cabinets.
Have a folding area- If you currently bunch your clothes into a basket, you'll appreciate having laundry room cabinets with a countertop where you can fold the clothes instead. You'll cut down on wrinkles and eliminate the need for ironing in many cases.
Have a neater appearance- Even though most guests don't enter your laundry room, you might still appreciate having a beautiful laundry room for your enjoyment.
If you want to enjoy these benefits, as well as any others you have in mind, turn to us for custom laundry room cabinets that will give you many years of reliable performance. We can utilize the space you have for optimal storage and functionality for your Westerville, Ohio home. Please stop by our showroom or reach out to us to learn more.
---
At The Cabinet Guys, we provide laundry room cabinets for customers in Columbus, Delaware, Dublin, Grove City, Westerville, Plain City, Delaware, West Jefferson, New Albany, Gahanna, Hilliard, and Worthington, Ohio.